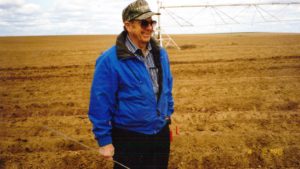 Darol Forsythe began working in the potato industry in 1965. These were exciting years for potato growers.  Prices were good and new ground was being brought into cultivation.  The Desert Entry program was in full swing and throughout Idaho, Oregon, and Washington farms were springing up.
Darol farmed in Iowa right out of the Navy after WWII.  This was a logical next step since he grew up on a farm.  Many of his early years were specifically in a chicken hatchery.  Farming for less than wages for the rest of his life did not appeal to him.  He loaded everything in the car and headed west.  The Salt Lake area was the first stop on his way to Idaho.
Darol worked first in Pocatello and later in Idaho Falls for Hood Heating and Air Conditioning.  This work really suited him and challenged his skills in sales, design, and fabrication.  Skills that would later all come together to help the potato industry.  Darol went on to work for the University of Chicago at EBR-II and selling life insurance.
In the spring of 1965 Darol received a phone call from Nathan Gellert asking if he would be interested in selling, designing, and installing ventilation equipment in potato storages.  From this phone conversation came Industrial Ventilation later known best as IVI.  This was a giant leap in potato storage technology since there were almost no ventilated potato storages in Idaho at that time.  Delbert Brinkman had assembled a ventilation system for his own storage but was the only potato grower to have such a system.
Clair Krakaw saw the opportunity to sell fresh potatoes in July when the price was very high.  Clair contracted with Darol to install refrigeration in two new storages in Fort Hall, Idaho.  Applying practical design experience, Darol pioneered the updraft refrigeration in potato storages.  These were the first successful modern refrigerated potato storages.  Other refrigeration designs had been tried with very limited success.  Clair held until August and sold his crop at a very good price.  Visitors arrived from all over Idaho to see how he did it.  Engineers told him it was a fluke and could not happen again.  This is the same design used today throughout the United States.
In addition to the refrigeration design, Darol made many other practical innovations such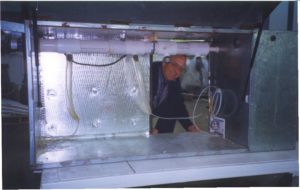 as the airwasher.  The first airwasher was a monstrosity but it worked.  This gave the extra cooling needed to cool the storage faster and hold longer.  Now there was a less expensive alternative to refrigeration.
In 1976 Darol finally realized a long sought after goal.  He was able to purchase and apply Sprout Nip (CIPC).  It was not long before the same innovative approach was brought to the Sprout Nip market.  The application machines began to change.  First the gasoline engines were replaced with electric motors.  The chemical feed was modified to run more consistently.  The mess left behind after an application of Sprout Nip was a good indication that the application method needed examination.  The reduced airflow application was developed and changed the face of sprout inhibiting forever.  Gone are the days of coming out of a storage after treatment looking like a snowman.  More CIPC went on the potatoes and less left around on the fans.  This allowed fewer applications saving the industry millions of dollars.
Darol retired from IVI in the early '80's and "went to farming".  The challenges kept him occupied for a few years.  The entrepreneur was always there and when an opportunity came up he took it.  PIN/NIP was started in the early 1990's to provide a secondary source of CIPC to the industry.
PIN/NIP started out selling the same product that was the standard, PIN NIP 7A.  This was CIPC mixed with methanol.  Darol's past experience with application machinery encouraged him to build a better mouse trap.  The result after a year was a large bone yard and the knowledge of hundreds of ways that it couldn't be done.  Giving up was not an option.  There were several machines built and used to make applications.  The result of several years work was the PUFF machine.  This was the first large scale applicator to introduce no byproducts of combustion, apply essentially pure CIPC, and control crystal size.  Darol pioneered the modern application of CIPC.  Today nearly 90% of the treatments are made with pure CIPC.
At the time PIN/NIP was getting started and developing better methods FIFRA was breathing down the backs of all agricultural chemical companies.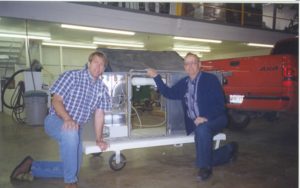 CIPC was the only chemical sold by PIN/NIP so the fate of its registration was a great concern.  This led to the search for an alternative chemical.  There were lots of products looked at.  The decision to pursue a registration for 1,4-DMN was another example of Darol's intuitive business sense.  Today it is sold under the name of 1,4SIGHT®.
Darol committed his life to pursuing excellence in any area of his work.  This passion for excellence has benefitted the potato industry by vastly improving the storage of potatoes.  The modern potato industry is a result of many innovators efforts, and Darol is one of them.
Darol Forsythe, founder of 1,4GROUP, Inc., passed away May 3, 2017, at home on the ranch he loved.  Though he will be greatly missed, 1,4GROUP will continue to be run by his son and business partner John Forsythe, and will carry forward with the same values and standards that Darol and John instilled in it from the beginning.